会社概要
About Us
It is our pleasure to intoroduce our company "Highland co.,ltd.", An international valuable in-fashion knitwear manufacture. Our headquarter in Tokyo,and Q.C.office in Hong Kong/China. We supply knitwear to famous department store apparel, famous S.P.A.apparel and famous mail-order company in Japan. Our production range from New-Basic Styles to in-fashion style. We would like to meet you. Please come and visit our showroom. If you come and visit overhere, probably you are able to meet our value-added merchandise.
【OEM production】

We propose yarns which comes from our good relationship yarn suppliers in all over the world to our customer. We can product very good quality,especially sweater which is used woven,jersey fabric in part of garment. We can product any guages. Especially 16G is very attractive Minimum of order is not so big.
【Made in Japan whole garment】

Our factroy has usual automatic knitting machin and whole garment knitting machine. Especially whole Garment is very value,wearing comfortable,beautyful and virtical.We have a special team with "SHIMA SEIKI" which they product machine. We usually reserch and develop with new technique and program. We are sure programming skill of Japanese factories are Top in all over the world. 15G whole garment is very value in all over the world. Our cooporated factory has 18pcs and we export sweater in 15G all over the world. Also we invest and concentrate after process we need exclusive skill such as printing by ink-jet-printing machine and so on.
Company Name/会社名

Highland co.,ltd.
株式会社ハイランド

Address/所在地

Tokyo Office:
"Flourish Sendagaya 3F, 2-7-4, Sendagaya, Shibuya-ku,Tokyo,"
ZIP : 151-0051
東京オフィス:
東京都渋谷区千駄ヶ谷2-7-4 フローリッシュ千駄ヶ谷3F
〒151-0051

Tel & Fax/電話とファックス

TEL:813-6447-5638
Fax:813-6447-5637
TEL:813-6447-5638
Fax:03-6447-5637

President/代表取締役

Hideiki Nagaki
代表取締役 永木 英行

Staff/従業員

Six person
6名+外部契約デザーナー2名

Hong Kong Office

Dulyn Knitwear co.,ltd
デュリンニットウェア

Capital tie-up 資本提携

"Unit 1801, 18/F., CFC Tower, 28 Mody Road,
Tsim Sha Tsui, Kowloon, Hong Kong"
Tel: +852-2377-1019
Fax:+852-2311-2566
"九龍尖沙咀麼地道28號中福商業中心18樓1801室"
Tel: +852-2377-1019
Fax:+852-2311-2566

Business Contents/事業内容

Wholesaler, Production knitwear garment
婦人服等各種衣料繊維製品の企画、製造、販売

Products/取扱商品

Men's,ladies' and babies'knitwear, which made of fancy yarns and regular yarns arranged from China,Japan,UK,Italy.
婦人用・紳士用・子供用ニットウエアー。(イギリス、イタリア、日本、中国手配の定番素材及びファンシー素材使用)

主要販売先

伊藤忠商事㈱、田村駒㈱、㈱ユナイテッドアローズ、㈱サザビーリーグ、㈱ジュン、㈱ファーイーストカンパニー、伊藤忠モードパル㈱、八木通商㈱、丸紅ファッションリンク㈱、蝶理㈱

Main Customer

Itochu campany,Tamurakoma,Marubeni,Itochu mode-pal,Yagi tsusho、Chori

Brand

UNITED ARROWS,ANAYI,RON HERMAN,ALLUEREVILLE,ESTNATION. URBAN RESERCH,ADAM ET ROPE,PLAGE,FREAKS STORE,THREEDOTS MIZUIRO IND,ITOKIN,Heliopole,BAYCREWS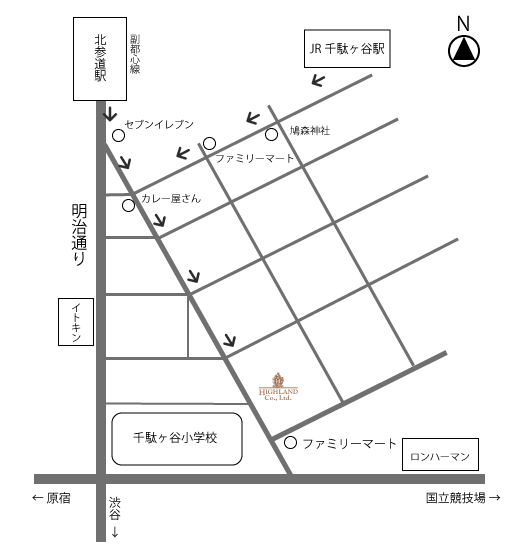 北参道二番出口から、明治通りを南下し、セブンイレブン前の三差路を南下します。brしばらく歩くとファミリーマートの手前に弊社がございます。